High Court rules Dove Trust must pay out to good causes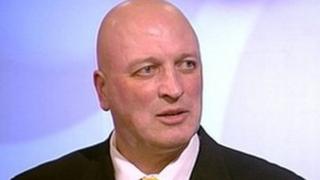 A charity that had ex-footballer Bryan Gunn as a trustee should pay out about a third of the money it owes to good causes, a High Court judge has ruled.
The CharityGiving site, run by the Dove Trust, has £709,000 in frozen bank accounts but debts of £1.68m.
Mr Justice Henderson, at a directions hearing in London, said money should go to the 1,800 good causes owed money.
Former Norwich City manager Mr Gunn was excluded as a trustee in July 2013.
£300,000 taken out
Mr Justice Henderson said the fairest way to make a payout was to split the pot of money according to the ratio of donations made to each good cause.
That meant each would receive about 33p in every pound owed.
The Dove Trust charity was established in 1983 and in 2004 set up the CharityGiving website to attract donations.
It received donations from sponsored events, ranging from a few pounds up to nearly £100,000.
The trust, which applied for Gift Aid to boost donations by 25%, received 4p of every pound received as a fee.
The judge said: "Unfortunately, it appears that the administration of the website by the Dove Trust left a great deal to be desired.
"I am not concerned in the present proceedings to explore the reasons for this or to apportion blame, and it is only right to record that all allegations of misconduct are strenuously denied by the trustees concerned."
He said it regularly used money coming in to pay its monthly commitments.
Complaints were made about its management and the Charity Commission began an inquiry, leading to the freezing of bank accounts in June 2013 and the closure of the charity website a month later.
The commission said its action was brought after £300,000 was taken out of "restricted funds" to be used by companies run by Keith Colman, who resigned as a trustee in December 2013.
After the court hearing, Mr Colman said: "I am pleased that the court has reached a conclusion on the basis of distribution, which will allow an interim payment to be made."
The Charity Commission is investigating claims of "misconduct and mismanagement" at the Dove Trust, a charge all the trustees deny.