Norfolk road death couple 'made 999 request'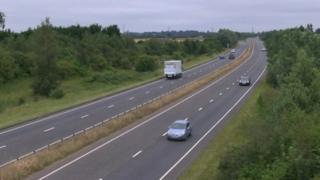 A man and a woman killed on a dual carriageway asked for police to be called shortly before their deaths, detectives revealed.
Police said Tadas Zaleskas, 26, and Nonita Karajevaite, 24, were both killed on the A47 in Norfolk on Sunday.
Police are treating Ms Karajevaite's death as suspicious, believing she may have been pushed into the traffic.
Officers said the pair had earlier each separately told a farm shop worker to call the police.
Mr Zaleskas and Ms Karajevaite left the shop before the call was made.
Walking barefoot
The couple, originally from Lithuania, were engaged and had lived in nearby Emneth.
Both died after being hit by a silver Kia car as they walked along the A47 eastbound carriageway, near Terrington St John at 14:15 BST. They died at the scene.
Ms Karajevaite's death is being treated as suspicious following allegations she was forcibly pushed into the path of oncoming vehicles.
Police said the pair had been walking barefoot when the crash happened.
At 13:20 they had both separately spoken to an assistant at Worzals Farm Shop in Walpole Highway and asked them to call the police, but they left soon afterwards with no explanation. Police were not called.
Witnesses then saw the pair walking along the verge of the dual carriageway heading towards King's Lynn when they were hit by the car.