Ironman champion Chrissie Wellington in stolen bike appeal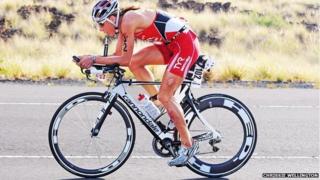 A triathlete has appealed for help on Twitter after the bike she rode to victory in an Ironman World Championship was stolen.
Chrissie Wellington, who won her fourth title in 2011, said it had "great sentimental value" and had been taken from an office in London.
The retired champion from Feltwell, Norfolk, tweeted the thief had the "audacity" to ride off on her bike.
She has posted CCTV footage of the theft on YouTube.
The white Cannondale Slice, which is worth several thousand pounds, was being stored at her cousin's office in Chessington when it was taken between Sunday night and Monday morning.
'Sentimental'
Wellington, 37, said despite crashing the bicycle two weeks before the 2011 World Championship, she decided to not to swap it for another, before going on to win.
"It means so much to me because that's the race I'm most proud of, and to have ridden to victory on that bike gives it great sentimental value," she said.
"I keep the medals, I keep the trophies, I keep my race kit and my running shoes and I keep my bikes. It's quite a collection.
"I'm quite a sentimental person and that bike is up with all the other symbols and remembrance of the victories I've had."
She added she would "love to be able to get it back".
The Metropolitan Police said: "Kingston burglary squad are investigating a break-in at office premises in Oakcroft Road, Chessington, that occurred around 11:15 BST on Sunday.
"An unknown male suspect forced entry to the building and then an internal office to steal a ladies' racing bike and around £70 in cash."
An Ironman Challenge comprises a 2.4 mile (3.9km) swim, 112 miles (180km) of cycling and a full marathon.