Sixty homes hit by flash flooding in Norfolk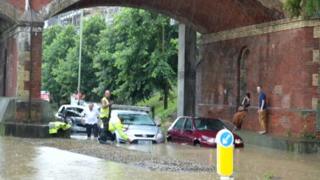 About 60 properties flooded during torrential rain on Sunday as fire crews dealt with 120 emergency calls in just two hours, Norfolk Fire Service said.
South Norwich was hit by flash floods as heavy rain fell across the county.
Fire service area manager David Ashworth said some businesses' ceilings collapsed and a number of shoppers were left stranded in flooded car parks.
A road in Trowse was struck by lightning and a city school had to shut earlier because of flood damage.
Norfolk Fire Service said a cloudburst particularly affected people living in south Norwich, Thorpe St Andrew, Rackheath and Salhouse.
Mr Ashworth said: "We received 120 calls between three o'clock and five o'clock.
"We pulled a number of resources in from elsewhere in the county because the cloudburst was very localised.
"It was mainly surface water, the drains couldn't cope, so people's doorsteps were being breached and people were getting water into their ground floors and basements.
"There were a number of businesses affected as well and one or two whose roofs were leaking and subsequently had problems with the ceilings collapsing.
"We also had problems with car parks becoming flooded and people who had been out shopping in the afternoon couldn't get out."
Flood warnings were issued but no further downpours are expected on Monday.