Two pedestrians killed on A47 in Norfolk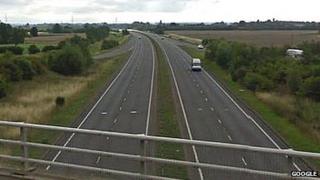 Two pedestrians have been killed after being hit by two cars on the A47 in Norfolk.
Norfolk Police said the man and woman were near a petrol station at Terrington St John when they were struck by a Kia and a BMW on Sunday.
The pair, who were walking in the direction of King's Lynn, died at the scene. No-one else was hurt in the crash, which happened at 14:15 BST.
Officers have asked for any witnesses to contact them.