Norwich Pinebanks Centre gutted in 'severe' blaze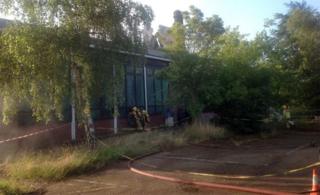 A Victorian building on a site of historical interest on the outskirts of Norwich has been gutted in a "severe" blaze.
Fire crews were called to the Pinebanks Centre, a derelict social club in Thorpe Saint Andrew, at about 01:00.
More than 60 firefighters tackled flames "burning through the roof of the building", said incident commander Greg Preston.
An investigation is due to begin once the building is made safe, he added.
The 19th Century building has been unoccupied since 2008.