Gorleston road lifts and cracks as county battered by rain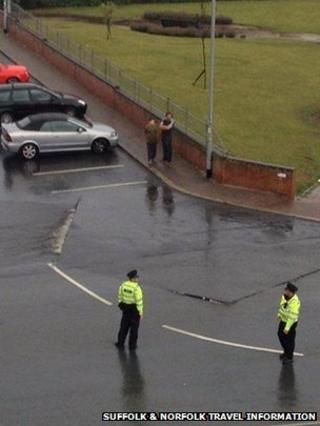 A road in Norfolk was lifted after two storms that saw a month's average rainfall in an 18-hour period.
The heavy rain that fell across the east of the county cracked the road in Pier Gardens, Gorleston.
About 1.2 ins (2.9cm) of rain fell between 15:00 and 16:00 BST on Sunday after heavy downpours the night before.
Norfolk County Council believes water pressure in a storm drain damaged the road and an investigation has started.
A spokesman said it would be investigating the cause with Anglian Water and the road would remain closed.
The rain also affected many other parts of east Norfolk, with the fire service called out more than 30 times over the weekend to pump out homes and business premises.
More than 2.2ins (5.55cm) of rain fell in parts of Norfolk over the weekend - almost as much as usually experienced over about a month.