Overcrowded Norwich Prison raises 'real worries'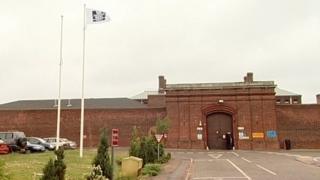 Overcrowding at Norwich Prison raises "real worries about the safety of both prisoners and staff", according to a prison watchdog.
The report from the Independent Monitoring Board found many single-occupancy cells were shared.
The board said HMP Norwich had spaces for 627 inmates, housed 769 men and had been asked to take another 14.
A prison spokesperson said holding two prisoners in one cell was "always done in a safe way".
'Cramped conditions'
The prison said that when inmates shared single-occupancy cells it was "a sensible and well-established response to short-term population increases".
Plans to further increase the prison's population meant that the men would be "locked up longer each day in cramped conditions, increasing frustration and discontent", according to the board's report.
The report questioned whether the "seriously short-staffed" prison could "be safe for staff and prisoners alike".
Trish Phillips, a member of the Independent Monitoring Board, said that "there aren't the prison officers to do the work" and as a result the prison induction system for new inmates "is not working very well".
Each prisoner should also be given a personal officer when they arrived, and "that system is not working", she added. However, the report also described the prison as "improving" and praised the way prisoners gained skills for employment.