Second Norwich Cathedral peregrine falcon chick dies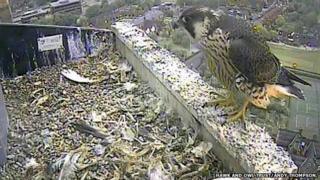 A second young peregrine falcon - one of four chicks that fledged earlier this year from the spire platform at Norwich Cathedral - has died.
The body of Unringed was found near recycling bins on a private shingle path in the grounds of Norwich School.
A school maintenance worker, who was a regular visitor to the Peregrine Watchpoint, discovered the body on Friday when going to the bins.
It is suspected the bird was in a high-speed collision and broke its neck.
'Bold character'
Norwich Cathedral peregrine project officer Carrie Kerry, who collected the body, said: "Unringed looked to me to have a floppy head, probably as a result of a collision.
"What a shame. He was such a bold character, many people will be very sad to hear the outcome."
The body of Unringed has been sent to a vet for a post-mortem examination.
"If the result does come back as a broken neck, it will be similar to the results of the post mortem for YT, the previous chick that died," Ms Kerry said.
David Gittens from the Hawk and Owl Trust Webcam Department said: "Even though the chicks have been out of the nest for about a month, and been seen flying strongly around the cathedral, they still have a lot to learn.
"Danger lurks round every corner when flying at high speed."