Edith Cavell choral work Eventide world premiere in Norwich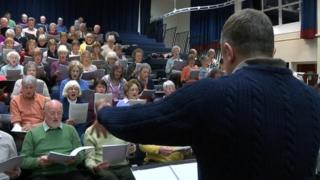 The world premiere has been held of a new choral work celebrating the life of a heroic nurse executed during World War One.
Eventide, written by Norfolk-based chart-topping composer Patrick Hawes, honoured Norfolk nurse Edith Cavell.
The vicar's daughter from Swardeston, near Norwich, was executed by a German firing squad in 1915 for helping Allied soldiers escape from occupied Belgium.
The WW1 centenary concert, before 800 people, was held at Norwich Cathedral.
Mr Hawes, Classic FM's former composer in residence, said Eventide is based around the nurse's letters and had taken eight months to create.
"It's extraordinary, as I've been writing this piece of music I feel I've really got to know her from a spiritual point of view... I can feel her here almost," he said.
As reported by the BBC's World War One at Home, Edith Cavell's body was exhumed from the execution site in 1919 and finally laid to rest in the grounds of Norwich Cathedral.
The concert was performed by the Sheringham and Cromer Choral Society, Welsh soprano Elin Manahan Thomas and the English Chamber Orchestra.