Seahenge: Second Holme-next-the-Sea wooden circle dated to 2049BC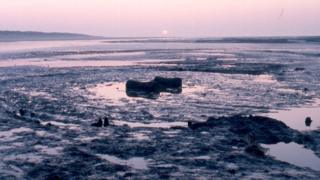 A second Bronze Age wooden circle discovered on a Norfolk beach has been dated to the same year as its neighbour, known as Seahenge.
Archaeologists have been testing wood from the second henge at Holme-next-the-Sea and believe it was also built using trees felled in 2049BC.
Both wooden circles were revealed in the sand near Hunstanton in the 1990s.
Experts said the study showed both structures were probably linked to the same burial.
Seahenge was excavated in 1998-99, despite protests, and put on display at Lynn Museum, King's Lynn.
Norfolk County Council said there were no plans to move the second circle.
When it was revealed at Norfolk Wildlife Trust's Holme Dunes nature reserve, the second henge had two logs laid flat in the centre of a wooden oval.
These have since been washed away and the remaining structure is now completely covered by sand.
The process of dating the wood using tree rings, called dendrochronology, started last year.
David Robertson, historic environment officer at Norfolk County Council, said the research showed the two circles "must have been directly linked".
"The reasons why the second circle was built are not clear," he said.
"It may have formed part of a burial mound and the two central logs may originally have supported a coffin.
"Seahenge is thought to have been a free-standing timber circle, possibly to mark the death of an individual, acting as a cenotaph, symbolising death rather than a location for burial.
"If part of a burial mound, the second circle would have been the actual burial place."
The study's full results are due to be published soon.