Thrigby Hall nesting white storks 'fail to breed'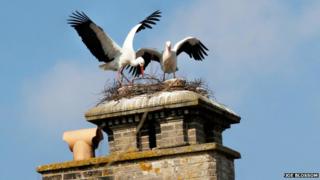 A pair of storks that sparked hopes of producing the UK's first chicks in a traditional nest for 600 years have failed to breed, experts said.
The white storks made their home on a chimney at Thrigby Hall Wildlife Gardens near Great Yarmouth in March.
But despite signs of mating rituals, the centre says it has not seen chicks.
The last record of white storks successfully breeding in a nest in Britain was at St Giles' Cathedral, Edinburgh, in 1416.
Thrigby Hall manager Scott Bird, said the pair could be preparing their nest for the next breeding season.
'Lot of activity'
The birds are part of the collection at the wildlife gardens, which has been trying to get storks to nest for many years.
White storks in the wild often breed in continental Europe, migrating to southern Europe and Africa in winter.
The white stork
•A large white bird with black wings and red legs and beak
•They breed from North Africa up through Europe and into Asia
•They have a wing span of up to 7ft (2m) in length
•They nest close to human habitation - chimneys or rooftops
•They are known as a symbol of fertility
Source: RSPB
The British Trust for Ornithology (BTO) said usually less than 10 "over-shooting" storks arrive in the UK each year.
Mr Bird said there had been a lot of activity around the pair's nest.
"We saw the female had been sitting on it for quite a while, but we don't think they have produced any eggs," he said.
"They could be preparing the nest for the next breeding season, which is not uncommon."
White storks lay their eggs at the earliest in mid-April with them often hatching by late May, Paul Stancliffe at the BTO said.
If the centre had not seen any evidence of chicks by now, it would be very unlikely that the pair would have mated this season, he explained.