Norfolk home care: Care UK loses Broadland contract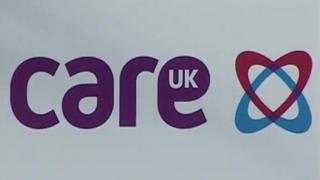 A care provider criticised after taking over services in an area of Norfolk has been stripped of its contract by the county council.
Care UK took over home visits to more than 200 elderly people in Broadland in July last year.
A survey found a third of users said services had declined under the new provider.
Norfolk County Council said despite warnings Care UK had failed to improve its services.
Care UK will keep its contract for other areas in the county.
A council spokesman said in recent weeks, there have been a "number of missed homecare visits and the company has struggled to deliver the service in the Broadland area to a standard that either the council or Care UK are satisfied with".
The council and Care UK has agreed by "mutual consent" to end the contract.
Care UK will then focus on providing a "good quality service" in its other homecare contracts in the Great Yarmouth and north Norfolk areas, said the spokesman.
The company will continue to provide homecare services in the area while the council gradually transfers responsibility to an alternative provider during July.
'Contract difficulties'
Sue Whitaker, chair of the adult social care committee on the council, said: "Last year, when there were difficulties with the contracts, we said we would not hesitate to act if the situation recurred.
"The company has accepted that it cannot provide the level of service we require.
"This is absolutely no criticism of the frontline staff who have on the whole provided brilliant care, day in, day out."
Donna Cousins, director of quality and governance for Care UK community services said: "We apologise to people who have experienced difficulties with their service over recent weeks.
"Relinquishing the Broadlands area will allow us to focus our attention on delivering a high quality of care to the people in the other areas of Norfolk that we will continue to be responsible for."