King's Lynn incinerator: Risks should have been emphasised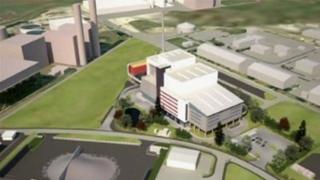 Government officials have been blamed for failing to emphasise the cost risks of Norfolk's £500m incinerator scheme.
The energy-from-waste project near King's Lynn cost £33.76m to terminate.
Permanent secretary at the Department for the Environment Bronwyn Hill was answering questions from Parliament's Public Accounts Committee (PAC).
She said her role was to advise the county council but PAC chair Margaret Hodge said government officials had not been firm enough.
The idea for the incinerator was put to the county council in 2009 and it was intended to burn waste from across Norfolk to generate energy and reduce the need for landfill sites.
However the project attracted a great deal of opposition from people in West Norfolk.
Ms Hill told the committee she believed Norfolk County Council, run by the Conservatives at the time, had also underestimated the financial risks involved in the contract with Cory Wheelabrator.
Her department had written to the council to this effect in 2010 but had been reassured the risks could be "mitigated".
Money waste regretted
South Norfolk Conservative MP Richard Bacon, a committee member, asked why £169m in waste credits to build the incinerator had been offered when the department had misgivings about the optimism of the council in 2010.
The department was also aware of the opposition from the local borough council, Norfolk MPs and council taxpayers, he said.
Waste disposal expert Dr Colin Church answered that the department's role was to sort out the issues and recommend advisors the council could use.
Ms Hill said the council had entered the contract with their eyes open but she regretted the waste of taxpayers' money.
Ms Hodge said the environment department should have exerted its influence in a more direct way and pointed out the risks more firmly.