Edith Cavell £2 coin considered by chancellor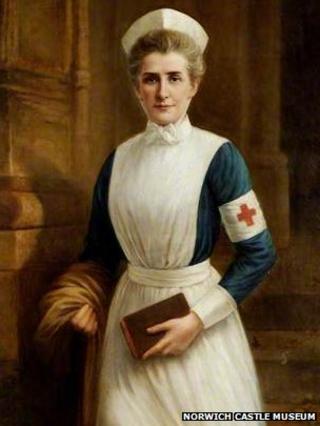 The chancellor has agreed to consider adding World War One heroine Edith Cavell to its list of designs for the new £2 coin.
The Norfolk nurse helped hundreds of Allied troops escape from German-occupied Belgium.
Ex-Army officer Dan Jarvis, Labour MP for Barnsley Central, made the request at Treasury questions in the Commons.
George Osborne, who is also Master of the Royal Mint, said he would take it up with the Mint's advisory committee.
Coins are due to be released over the next five years to mark the Great War.
Relatives of nurse Cavell, a vicar's daughter from Swardeston, near Norwich, delivered a petition bearing 110,000 signatures to the Treasury last month after it was announced former war secretary Lord Kitchener would feature on a coin.
Campaigners said the coins should also celebrate those who advocated peace.
Cavell's actions broke German military law and after she was caught she was shot by firing squad in 1915, aged 49.
The campaign follows last year's successful petition to put author Jane Austen on the back of £10 notes after a public outcry that every banknote featured a man.