Norfolk Police 'to cut 350 posts'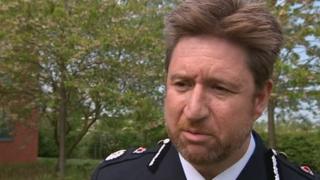 Norfolk Police is proposing to cut 350 posts in what it describes as "the most significant review of policing in a generation".
Chief Constable Simon Bailey said 120 officer posts and the same number of PCSOs would go over the next four years in a bid to close a £20.3m funding gap.
Mr Bailey said the plan included cutting 12 neighbourhood posts.
Norfolk Police Federation chairman Paul Ridgway described the announcement as "absolutely devastating".
About two-thirds of the estimated job losses will be civilian staff.
Funding for chief officer roles will also be reduced by one-and-a-half posts to cover the equivalent of three-and-a-half posts in the next year.
'Living on the edge'
The force said it would also look to sell some older and under-used buildings, excluding response bases, and review the work at its 15 public enquiry offices.
It added PCSO employment had been frozen and police staff recruitment had been delayed in all but exceptional cases.
Mr Bailey said: "My priority will always be to preserve our capability to provide an effective 24/7 emergency response, prevent and detect crime and protect the public from harm.
"However, the scale of the deficit is such that this cannot be achieved without further reducing our workforce - including some frontline posts."
Mr Ridgway said the cuts were "devastating", but he had gained "confidence" from the chief constable and police and crime commissioner that "Norfolk is going to be kept safe".
Jenny McKibben, deputy police and crime commissioner, said the level of the cutbacks had worsened after a bid to share control rooms with Suffolk Police failed.
She added that two-and-a-half posts had gone at the PCC's office to help with the deficit, but maintained that the force would still be held to account.
Caren Reeves, Unison branch secretary at Norfolk Police, said the cuts will "undoubtedly impact on the wellbeing of my members who are living on the edge".
The plans will be discussed by the Police and Crime Panel on 4 July.