Norfolk Police employee jailed for voyeurism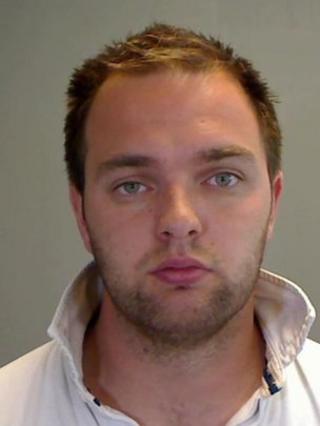 A former temporary Norfolk Police employee has been jailed after pleading guilty to voyeurism offences.
Robbie Llewellyn, 26, of Cavendish Road, Balham, south London, last month admitted 15 charges including voyeurism and outraging public decency.
Police found "covert photos of women" and "voyeuristic videos" on computers, showing he had been "targeting women in public and private locations".
He was jailed for 16 months at Norwich Crown Court.
None of the offences took place within the constabulary offices, police confirmed.
'Vetted successfully'
Llewellyn, who was living in Wereham, Norfolk, at the time of the offences, was investigated by the force's anti-corruption unit after complaints were received suggesting he was taking inappropriate, covert photos of women and had been hacking into other people's computers, Det Insp Jeff Yaxley said.
Computers seized during a search of his home showed Llewellyn had distributed some of the images he had taken via the internet.
Llewellyn, who was arrested in August, admitted six counts of voyeurism under the Sexual Offences Act 2003, five counts of outraging public decency and four counts of using a computer to secure unauthorised data.
Det Insp Yaxley, said: "It is important to note that the constabulary had employed Llewellyn on a temporary basis, but only after he had completed his vetting process successfully.
"Having been arrested, he was immediately suspended and subsequently dismissed by the organisation within four weeks."
A spokesman for Norfolk Police was not prepared to disclose the position held by Llewellyn during his temporary employment with the force.