Norfolk PCC Stephen Bett steps aside over expenses probe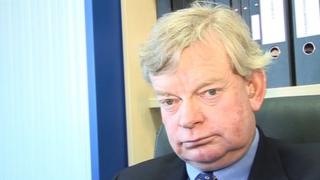 A police and crime commissioner has stepped aside while an investigation is carried out into his expenses.
The Independent Police Complaints Commission (IPCC) said it would oversee the police probe into mileage claims made by Norfolk PCC Stephen Bett.
Mr Bett paid back more than £2,700 for his trips between home and work after the BBC revealed he had claimed more than £3,000.
He said he would temporarily step aside with "huge reluctance".
"This allegation is not new, has already been independently scrutinised and found to be baseless," said Mr Bett.
"However, in order to protect the integrity of the IPCC's investigation, and to avoid any damage being caused to the office of police and crime commissioner or to Norfolk Constabulary, I feel that to step aside from my duties is the right thing to do.
Complaints from public
"I have every confidence that the IPCC's investigation will fully exonerate me. I have at all times been transparent and done everything above board."
It is not yet known who will take Mr Bett's place. The Home Office said Mr Bett's decision was a "personal matter" and it would not comment on an ongoing IPCC investigation.
In November the BBC revealed Mr Bett had claimed for 96-mile round trips from his home in Thornham, near Hunstanton, to police offices in Wymondham.
The issue was then referred to the IPCC by the Norfolk Police and Crime Panel, which is responsible for scrutinising and supporting the work of the commissioner, following two complaints from the public.
The IPCC has now confirmed it will oversee an investigation by the City of London Police. It said it will examine Mr Bett's expenses from November 2012 to October last year.
In January he said he had paid back an amount calculated by independent auditors.
Mr Bett was elected as an independent PCC in November 2012 on an annual salary of £70,000.