The Fry Up Inspector: In search of the perfect Full English breakfast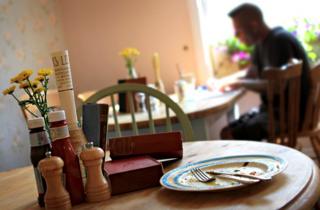 Known to thousands as an anonymous food blogger, the Fry Up Inspector has travelled the country in search of the perfect Full English. So just who is the man doling out the Michelin star of bacon, eggs and bangers?
For the past couple of years stickers have appeared in cafes, restaurants, tea rooms and farm shops.
Nestled next to a TripAdvisor accolade and perhaps a council food hygiene rating, "The Fry Up Inspector recommends" means a mystery diner has eaten a cooked breakfast there, reviewed it for his blog and ranked it as one of the best he's eaten.
More than 300 fry-ups have been tried and tested in the inspector's home city of Norwich, with the search extended to London, Northampton, Cambridge, Brighton and Bristol.
But very few people know who he is - and we cannot tell you his name or clearly reveal his identity.
His "hobby" relies on him being able to eat breakfasts incognito, without any whiff of suspicion that the inspector is in town.
Aged in his 40s and with a day job working with adults with learning difficulties, the man I meet is not what I expected. For one thing, he's slim.
"Everyone says that," he says. "But I only have fry-ups at the weekend. I don't do breakfast.
"Most mornings it's a coffee, and we eat fish and steamed vegetables during the week."
The "we" refers to his wife and breakfast companion, who tries the vegetarian fry-up option and gives her opinion for the blog.
They even had a fry-up themed wedding reception and it was their shared love of going to gigs around the country which fired their obsession.
"We'd gone to Peterborough to see a band and were staying at a £20-a-night place," he explains, giving me a look that suggests 'yes, what did we expect'.
"The next day we had an awful breakfast. It was a piece of toast with an undercooked fried egg on it and another piece of toast with a cheap sausage on it.
"When we cut into it, the sausage was cold and raw in the middle. It was such a sorry sight. I took a picture of it and put it on Facebook. It generated so many comments, like nothing I'd posted before."
Back in Norwich the following week, he enjoyed an outstanding breakfast at his local cafe and again shared a picture with his friends. It sparked the same enthusiastic response as before and inspired him to go on a quest comparing fry-ups.
"I was getting frustrated as other websites reviewing breakfasts had such little information on them. I wanted to write something far more detailed to make sure people would know when places were open for breakfast, what was on the menu and what the experience was like.
When he started he said he would be "pretty excited" if 10 people read a review. He now has more than 2,000 likes on Facebook and gets 1,000 hits a day on the blog.
"I learnt that a lot of people go out for breakfast at least a couple of times a month and with so many places to choose from, certainly in Norwich, it can be a bit of a gamble so my blog helps them locate the places that are going to be good," he added.
"I think I must have hit a gap in the market, I do push it on social media, but I think it's also down to growing a fan base."
He judges each cafe on six key factors: first impressions, service, ingredients, presentation, taste and value, all while surreptitiously taking photographs on his mobile phone.
Points can be lost if the waiters are unwelcoming, use crockery that has seen better days or get his order wrong.
"I want simplicity in the ordering process. I also think about the vibe of the place," he says.
"You could have the most amazing breakfast in the world, but if the staff are rude and make you feel like you shouldn't be there then you don't have a good experience.
"Does the food look appetising when it's brought over, does it makes me want to get stuck in? I focus on how it's cooked, anything that's not quite right, items that don't have any flavour."
He then adds each individual score and divides the total by six. Any breakfast which scores 8.5/10 or higher earns the establishment a recommended sticker.
Twelve have been bestowed with the honour in Norwich in the past two years. However, while his blog can helpfully tell visitors where to find a good breakfast, its darkest corners are the most entertaining.
"Stand here and pay... and sit here and pray" he comments in the photo captions for a woeful cafe which went on to score just 2/10 for a cold breakfast.
Another review in March for a "breakfast from hell" at a cafe on the outskirts of the city resulted in 9,000 hits in 24 hours, the most popular so far.
The perfect breakfast
Top quality sausage and bacon

Fried egg with a runny yolk

Tinned, not fresh, tomatoes

Mushrooms are "crucial"

"Nice and stodgy" baked beans

Hash browns are "ok"

Definitely no chips
"Whoever said I should go there must have had a death wish against me," he said. "It was depressing. I just wanted to leave but had to do the review."
He still believes the good outweigh the bad and he does not tire of eating similar meals every weekend.
"I do think Norwich is the fry-up capital of the UK, there is so much choice and so many great places," he said.
His wife, an illustrator, is creating a hand-drawn map of Norwich highlighting a Fry Up Inspector trail of great breakfasts. He hopes every recommended cafe will keep a pile on the counter for customers to take away.
"It's the satisfaction of seeing the stickers on the window, and I like to be busy," he said.