Norwich prisoner Warren Fernandez was deemed 'not at risk'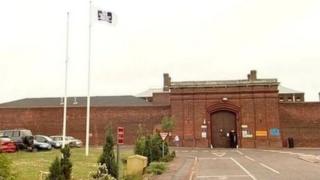 A man who was found hanged in his prison cell was not deemed to be an "at risk" prisoner, an inquest has heard.
Warren Fernandez, 45, of Bradwell, near Gorleston, Norfolk, killed himself at HMP Norwich in December, the coroner concluded.
The inquest was told he feared having his jail term extended after allegedly committing an offence while on licence.
The prisons ombudsman told the inquest inmates should be assessed more carefully in future.
Fernandez had been jailed in November 2008 after he admitted causing the death of Andrew Mackay, 38, by driving dangerously.
'Happy go lucky'
He was given a six-and-a-half-year sentence but was released on licence in February 2012.
However, in September 2013 he was recalled to prison following the alleged offence.
Speaking at the inquest, prison officer Sam Boggis described Fernandez as "genuine" and "happy go lucky".
Two weeks before his death he told her he was thinking of splitting up with his wife if he faced another long sentence, but she did not feel he was an at risk prisoner.
He was found dead in his cell on 28 December.
Detectives found two letters on his person, one marked last will and testament, another addressed to the inmates on the prison wing.
The inquest jury concluded that Fernandez had killed himself and there was no evidence of any third party involvement.