Tractor driver Anne Chapman honoured with British Empire Medal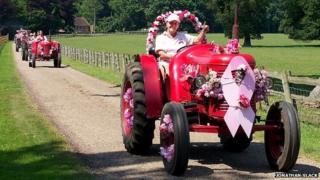 A tractor-driving lady in pink who has raised thousands of pounds for cancer research over the last decade has been named in the Queen's Birthday Honours.
Anne Chapman, 72, from Diss, is receiving a British Empire Medal for her services to charity.
The organiser of the annual Pink Ladies Tractor Road Run through Harleston and the surrounding Suffolk countryside said she was "humbled" by the honour.
She said: "This is not just for me but all the ladies in the pink cavalcade."
Mrs Chapman, better known as Annie, said the idea for the 20-mile (32km) "ladies tractor run" came from her husband.
"It came about when I retired and I wanted something to do for charity," she said. "Tractor parades are popular in this area but it's usually men, so it was a novel idea to do one just for ladies and it just took off."
The first "pink ladies" run raised £16,500 for breast cancer through Cancer Research UK and has raised more money each year.
"Last year was our 10th anniversary - who'd have believed it - it's extraordinary. We had 158 tractors and raised more than £60,500," said Mrs Chapman, a former Olympic torch-bearer.
The annual tractor run from Thorpe Abbotts Airfield to Harleston and back has raised more than £335,000 over the decade it has been running with the oldest driver an 80-year-old from the Midlands.
"This honour represents a huge team of people - I couldn't have done it without them," Mrs Chapman added.
The next Pink Ladies Tractor Road Run takes place on 6 July.
Other Birthday Honours in Norfolk include a British Empire Medal for Jane Hannah, 35, from Norwich for services to cricket administration and MBEs for teacher Ruth Diver from Sheringham for services to education and Alan Wilkinson from King's Lynn for his services to music and charity.