Norwich Cathedral peregrine falcon chick found dead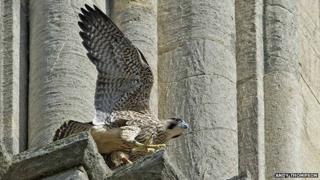 A peregrine falcon chick has been found dead two days after becoming the fourth to fledge from a cathedral spire nest.
The body of the female, identified as YT, was discovered by a member of the public in a Norwich Cathedral garden about 22:30 BST on Thursday.
David Gittens, from the Hawk and Owl Trust, said fledging is "fraught with danger" but there was "no obvious reason" for the bird's death.
A post-mortem examination is due to take placed over the weekend.
"We need to understand what caused this as part of the urban peregrine projects, said Mr Gittens, who has been monitoring the live feed of the peregrine's nest.
"The early days of fledging are fraught with all sorts of dangers and the mortality rate among raptors is always high in the first few days after leaving the nest.
"It could turn out she flew into something, or perhaps tussled with a gull - at this stage we just don't know."
The adult pair successfully hatched four chicks, two males and two females, at the end of April with the first to fledge on 6 June.
Four chicks also hatched in the cathedral nest last year, the second brood in the city since 2011 and among the first in 200 years.
A watch-point at the cathedral, run by the Hawk and Owl Trust, is open until the end of June.