Castle Mall hoax bomb threat teen sentenced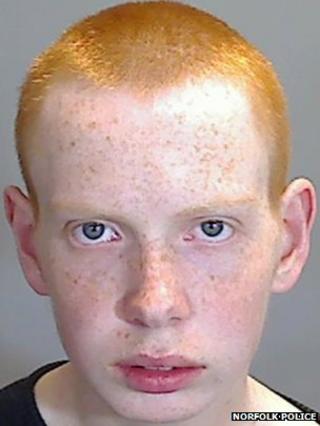 A teenager who made a hoax 999 call claiming a bomb was going to explode in a shopping centre so his brother could leave work at Burger King early has been convicted.
Luke Brown, 18, of Arnold Miller Road, Norwich, called 999 to say a bomb would go off at the city's Castle Mall.
He was sentenced to six months in a young offenders' institution at Norwich Crown Court on Friday.
Police have released a recording of the 14 minute bogus call.
Brown called 999 on 6 March and said he had received a letter nearly three hours previously which said a bomb would go off in the food court later that day.
He said he had "burnt" the letter when asked if he still had it.
Nine police officers including a dog handler and a crime scene investigator were deployed by Norfolk police.
During the call, Brown was questioned by the call handler several times but refused to say who he was or give any more details.
The call was traced to a phone box on Long John Hill, where Brown was found still on the line to police.
Superintendent Neil Baily said the waste of resources would have run into a four-figure sum.
He said: "It's astonishing to think of the stupidity of someone who would make a hoax call about a bomb in a busy shopping centre just to get his brother off work early.
"The custodial sentence underlines the seriousness of deliberately wasting police time and taking resources away from legitimate demands."
Brown, who earlier admitted communicating false information about a bomb hoax, was also ordered to pay an £80 victim surcharge.