Norwich Cathedral's fourth peregrine chick fledges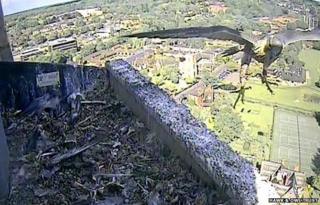 A fourth and final peregrine falcon chick has fledged from the nest box on the spire of Norwich Cathedral.
The chicks, two males and two females, hatched at the end of April and a webcam was set up by the Hawk & Owl Trust to monitor the nest.
Three chicks left last week and the final one took its first flight at about 16:30 BST on Tuesday.
The trust said the chicks would remain at the cathedral for two months while their parents taught them to hunt.
The first egg of the brood was laid on the spire platform, 75m (246ft) above the ground, on 18 March, with the fourth arriving six days later.
Intolerant parents
David Gittens, from the Hawk & Owl Trust, said the latest fledgling was spotted with its siblings later and "was looking fine."
"This is probably the best time for viewing as the parents will teach them how to hunt and fly better," he said.
"They still don't understand how to pluck their prey - which is mainly pigeons - so they will remain here with their parents for six to eight weeks.
"After that, the chicks will fly off to find their own territory, because their parents will not tolerate them around the cathedral next year."
Four chicks also hatched in the cathedral nest last year, the second brood in the city since 2011 and among the first in 200 years.
The trust said the parents had never been ringed and it would be impossible to do this now.
They believed the parents were the same pair as last year, but they could not be certain.
The trust has set up a viewing area at ground level at the cathedral with binoculars and telescopes available.