Holt residents make 46,000 blackbird sightings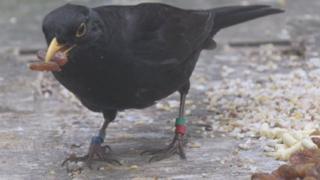 Residents of a Norfolk town have recorded 46,000 sightings of blackbirds as part of a study to see how the birds survive in a suburban environment.
Dave Leech, from the British Trust for Ornithology, and neighbours of his parents in Holt, has been monitoring the birds for seven years.
He wanted to see how they coped away from a traditional woodland habitat.
"It's fantastic," he said. "I've got all these spotters out there, waiting to tell me where my birds are."
The group of spotters have become known as the Holt Blackbird Observers, or Hobos for short.
Mr Leech has so far ringed 450 birds from his parents' garden.
His mother, Barbara, has become the number one recorder of the Hobos - with 33,000 sightings.
"I can eat my breakfast while I'm recording and I stop when I'm having lunch," she said. "You get cross-eyed if you've been doing it for hours."
The research has found that the blackbirds live for about eight years and their survival rate from one year to the next is about 59% - similar to those in a woodland habitat.
One surprising find, however, was the number of individual blackbirds appearing in the garden of Mr Leech's parents in the same day.
Mr Leech said: "One of the really incredible outcomes of the project is an understanding of the sheer number of birds that use the garden during the breeding season.
"The greatest number of individuals recorded on one day was 74, and even then there were some unringed birds still present."