Kittens escape 'lingering death' in box in Norfolk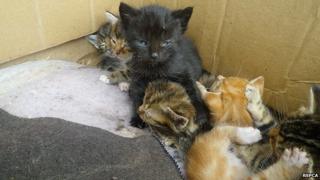 Ten kittens could all have suffered a "slow lingering death" had they not been spotted after being abandoned in a remote Norfolk field, the RSPCA said.
They were found in a box near Gunthorpe Road, Walpole Marsh, on Monday.
One had died "a horrible death" and many others' eyes were sealed because of infection, an inspector said.
"Someone went out of their way to abandon these kittens well off the beaten track," he added. The animals are said to be responding to treatment.
"These poor little kittens were freezing. I imagine they had probably been out there in that rural remote location for most of the night," RSPCA inspector Justin Stubbs, said.
"If this passing farm worker had not spotted them, and thought to take them to safety and call us, they could have potentially suffered a slow, lingering death out there. He saved their lives."
The three-week-old kittens were treated for eye infections and dehydration and have now been moved to the Peterborough branch of the Cats' Protection League where they are being hand-reared.
It is hoped they will be ready for rehoming in about six weeks.
An RSPCA spokeswoman said the charity had rescued 98 abandoned cats and kittens in Norfolk in 2013, and 5,875 in England and Wales.
"This is probably just the tip of the iceberg and there are likely to be far more cats out there we don't know about, or which other charities have rescued," she added.