Weasenham St Peter DNA clue to baby found dead in 1988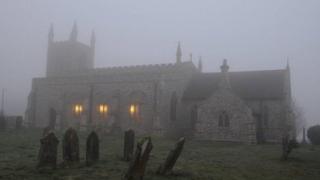 The parents of a baby found dead in a water-filled pit 26 years ago could be found by police after a DNA sample was taken from the boy's body.
The newborn was discovered in Windmill Pit in Weasenham St Peter, near Fakenham, Norfolk, on 5 June 1988.
His body was buried at the local church and exhumed in April this year for tests to be carried out.
Police said the boy's identity, that of his parents and how he died was still unknown.
The exhumation took place after police received new information, which was looked into but did not shed any light on the mystery.
'Identity answers'
Detectives from the Norfolk and Suffolk Major Investigation Team reinterred the body at St Peter's Church earlier, on the 26th anniversary of the discovery at Kipton Road.
Det Insp Andy Guy said: "Despite years of enquiries we still have not identified who the parents of this infant were and the circumstance around his death.
"The location is an important factor and there will be people out there that know the answers to the identity of the parents of this poor child.
"We now have a DNA sample so it will be possible to establish the parent's identity and we hope this will encourage people who may have not been confident enough before to come forward now."