Norwich 1996 rape accused Peter Carroll says woman 'went crazy'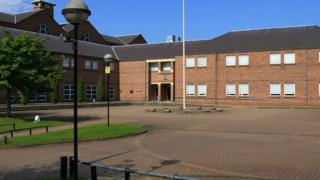 A man accused of raping and attempting to murder a sex worker 18 years ago in Norwich has told a court he acted in self-defence after she "went crazy".
Peter Carroll picked up the woman in 1996 and choked her half to death, prosecutors told Norwich Crown Court.
He was eventually identified from DNA on skin lodged under her fingernail, a jury has heard.
Mr Carroll, 56, of Aylesbury, Bucks, denies attempted murder, actual bodily harm with intent and rape.
John Farmer, prosecuting, told the court the victim was left for dead in a quiet lane but survived the attack on 20 July, 1996.
'Terrible crime'
The fragment of skin found beneath her nail could not be identified at the time.
Mr Carroll, who previously lived in Beccles, in Suffolk, was arrested last year after police reopened the case and linked it to him based on DNA taken after he was arrested and cautioned for an unrelated assault.
Giving evidence in court, Mr Carroll said: "She started attacking me, she stabbed her fingers in my eyes for no reason at all.
"She just started to go crazy so I had to grab her.
"The thought of revenge was not there, I just wanted her off me."
Mr Carroll, now of Barnsbury Avenue in Aylesbury, accepted he had caused her injuries and dumped her at the side of a road.
He said he briefly thought he had killed the woman.
He denied the prosecution's claims that he had tried to strangle her or that he enjoyed having sex with dead people.
Asked about his arrest last year, Mr Carroll said: "I knew what they were talking about. I was really frightened. Rape and attempted murder is a terrible crime.
"It's just like a child who's taken a small sweet - you just want to deny it."
The trial continues.