Jack Richards' lorry funeral procession in Fakenham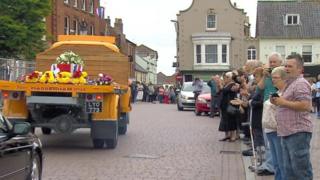 The coffin of a man who founded a multi-million pound transport company has been driven through the streets of a Norfolk town on a vintage lorry.
Jack Richards, 90, founded the company of the same name in 1956, with one lorry and built it up to a fleet of more than 200 vehicles.
His coffin was driven through Fakenham, where his company has been based since 1971.
Tributes were paid to "an exceptional man" who "started with nothing".
Staff said Mr Richards remained "very hands-on in the company" and enjoyed "doing little jobs" until his death.
His coffin was transported on a vintage vehicle in his company livery and six other Jack Richards & Sons' lorries followed behind.
It was driven by David Sayer, who has worked for the firm for 35 years and said he had "respect and admiration" for Mr Richards who "had started with nothing".
People lined the streets of Fakeham and applauded as the procession went through the town.
Mr Richards' funeral took place in King's Lynn.