Great Yarmouth MP Brandon Lewis in yogurt pot mix-up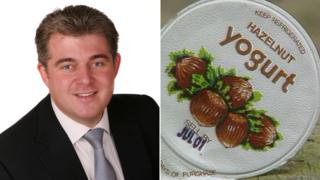 A government minister who said he was "absolutely sure" yogurt pots could be recycled in his home town corrected himself minutes later on Twitter after his wife told him he was wrong.
Brandon Lewis, Conservative MP for Great Yarmouth and Minister for Local Government, was discussing recycling live on BBC Breakfast.
He twice confirmed his council recycled them, before realising his error.
Mr Lewis later tweeted: "Wife already corrected me, mixing my memory..."
The minister appeared on the television programme to discuss variations in recycling practices across England.
Presenter Charlie Stayt asked the minister: "Question number one for you, where you live - and I'm not quite sure where that is - can you put yogurt pots in your recycling?
Mr Lewis said: "Yes, actually we can."
When pressed, the minister confirmed his answer.
'Memory mistakes'
Stayt asked: "Do you know that for sure? I'm not trying to catch you out, it's just that the practicalities are the things that trouble people most.
"And you know that for sure, you know absolutely you can put yogurt pots, butter containers for example, the different type of plastic - you know which one you can and which one you can't for your own area?"
Mr Lewis replied: "Yes, and to be fair my council, which is Great Yarmouth, are pretty good at educating people and making people very aware clear about what they can and can't recycle."
The council's website makes its clear what can and cannot be recycled.
Each household has a green bin for recyclables and a grey bin for other waste.
The council's website states specifically "yogurt pots... need to go in your grey [non-recyclables] bin".
After admitting his error on Twitter, Mr Lewis said "memory mistakes happen" and later tweeted a link to Great Yarmouth Borough Council's recycling page.