Scotty's Little Soldiers gets Tesco clothes range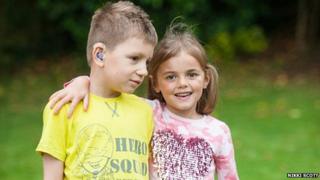 A woman who set up a charity after her husband was killed by a roadside bomb says she is "thrilled" to have produced a range of clothes with Tesco.
Nikki Scott, 32, started Scotty's Little Soldiers, which supports bereaved children, after Lee "Scotty" Scott was killed in 2009.
Tesco has produced a range of military-inspired clothes, featuring the King's Lynn-based charity's logo.
"It will really raise awareness of what we're doing," Mrs Scott said.
Scotty's Little Soldiers started in 2010 and organises gifts and days out for children who have lost a serving parent.
It also has two holiday homes available for families to use, and in November celebrated raising its first £1m.
Mrs Scott, who had two children with her husband, says the range of clothes includes baby-grows, hoodies and T-shirts.
"It took a while to get all the ideas together," she said.
"Tesco did the designs but we had a say with every step of the process.
"Seeing the range for the first time in person just a few weeks ago was a very exciting moment and one that signifies how we're on the threshold of really growing across the UK."
Tesco said the clothing line, produced by its Florence and Fred (F&F) label, was its first in conjunction with a charity.
It said the charity would receive all the profits from the clothes.
Emma Goodall, lead buying manager for F&F, said: "We're looking forward to its launch and assisting Scotty's with their fundraising initiatives in 2014 and beyond."