Great Yarmouth council sends 400 polling cards to 17-year-olds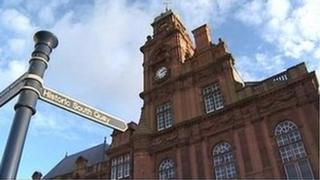 A council has apologised after mistakenly sending 400 voting cards to 17-year-olds - who are not entitled to vote - in Great Yarmouth.
A computer glitch meant that all the people due to turn 18 this year were sent papers.
Great Yarmouth Borough Council issued an apology soon after stating they will not be able to cast their ballot.
Tessa Fennell, whose 17-year-old daughter Kasie was sent a polling card, said she was "a little bit shocked".
'Fully investigated'
"I thought have they changed the voting age without me realising it," she said
"Then, about two weeks later, we got a letter to say they had done it in error and they had sent them out to everybody who was born in 1996 whether they were 18 or not."
The council said in a statement: "The returning office became aware in early May that polling cards for this month's elections had been wrongly posted to about 400 people who will not have reached the legal voting age of 18 by polling day on 22 May.
"These 17-year-olds were on the electoral register because they will all be 18 this year, between Thursday and 1 December when the register expires. However, they will not be old enough to vote on Thursday.
"Letters explaining the situation were immediately sent out to all those affected and their names have been struck out on the list of eligible electors which will be at polling stations.
"The borough council has now fully investigated the problem, which was caused by an IT issue. The borough council would like to apologise to anyone who has been inconvenienced."