Tory/UKIP Norfolk County Council pact 'unlikely'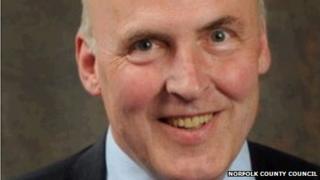 An alliance between the Conservatives and UKIP at Norfolk County Council is "unlikely", the Tory group leader said.
On Tuesday evening, the Conservative group on the council had a private meeting to discuss a possible alliance.
The plans would see Tory leader Tom FitzPatrick becoming council leader.
After the meeting, he said: "Personally, I don't think a deal is something that can be done." UKIP said they were meeting on Friday and would comment later.
Mr FitzPatrick said the idea for some form of alliance had come from UKIP.
"UKIP asked for a meeting and we listened to what they had to say," he said.
"The feeling among many members was that we should not do a deal. There is a feeling that, to some extent, they have made their bed and they can lie on it."
In an email to Conservative councillors before the meeting, Tory group deputy leader Ian Mackie suggested an "understanding" between the Conservatives, UKIP and the Lib Dems.
'Considerable turnaround'
UKIP group leader Toby Coke confirmed he had approached the Conservatives over a possible alliance.
Mr Mackie says in the email, seen by the BBC: "Given where we have been, and where we could end up from now until 2017, this is a considerable turnaround, it will give us 60% control."
The Conservatives ran the council between until 2001 and 2013 when they lost overall control.
They are still the largest party but the council is run by a Labour/Lib Dem/UKIP alliance with the support of Greens and independents and led by Labour's George Nobbs.
The council currently consists of 40 Conservative members, 14 Labour, 13 UKIP, 10 Liberal Democrats, four Greens, two independents and one non-aligned.