Felbrigg Hall visitors threatened by 'scared' turkey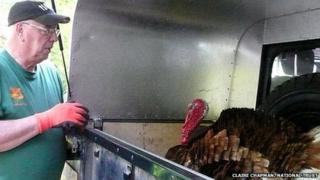 A rogue turkey has been removed from a National Trust estate in Norfolk after "frightening" dog walkers.
The full-grown male, which stands about 3ft (0.91m) tall, was discovered in the grounds of Felbrigg Hall, near Sheringham, on Monday.
The turkey stag tried to threaten dogs and their owners before it was captured on Tuesday.
"We think he had been dropped off on the estate in the night and was frightened," said ranger Ed Smith.
"A well-meaning person had probably reared him but he then got too much of a handful and they thought they would release him on some land."
"He had probably been released in the car park and been there for one or two nights. There are predators like foxes [about], so the likelihood is he was scared.
"He took offence to anyone with a dog, but didn't peck anybody. [He] just ruffled up his feathers to look big and frightening and people were alarmed."
The bird evaded attempts by staff to catch it on Monday, so additional staff and volunteers were drafted in on Tuesday. They managed to corner the turkey and grabbed him with a coat.
He was then put in the back of a car and taken to A Wing and a Prayer wild bird and owl haven at Stratton Strawless, near Norwich.
"They took him in as they have a female whose partner has died, so he should be able to stay there for the rest of his life," said Mr Smith.