Johanna Young death: New witness has 'critical information'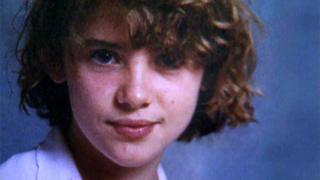 A new witness has come forward with "critical information" about the death of a schoolgirl in Norfolk more than 20 years ago, police have said.
Johanna Young, 14, disappeared from her family home in Watton on 23 December 1992. She was found dead on Boxing Day.
Two people were arrested last month and bailed in connection with the inquiry.
Police said a review had prompted new leads, including a sighting of a "dishevelled and slightly distressed" man close to where the body was found.
The witness reported seeing a man in a hooded top late in December 1992, who asked for a lift and was taken to Scoulton, about five miles away from Watton.
Police said the witness came forward with the "critical piece of information" after two men were arrested in April.
A spokeswoman for Norfolk police said its major investigation team had received its "largest number of calls" for an unsolved case.
A review of witness statements taken in early 1993 revealed a dog walker saw a girl matching Johanna's description on the night of her disappearance.
She was with a "young man" leaning against a motorbike close to where she was found dead.
Officers are also trying to track down the person that sent a cryptic letter to the Eastern Daily Press that appears to depict what happened on the night Johanna disappeared.
Det Insp Marie James said: "We have always said that the answer to this case lies in the information that only local residents can provide us.
"We would once again appeal to people to look to their consciences and consider, as several people have already done, whether the information they have held on to for over 20 years could be the key to this whole enquiry."