The Wonder of Birds: Norwich Castle showcases Holbein portrait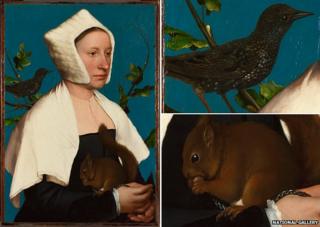 A "mysterious" painting has returned to Norfolk for the first time in more than 20 years as part of an exhibition spanning more than 4,000 years.
The portrait by renowned 16th Century artist Hans Holbein was named Lady with a Squirrel and a Starling.
For decades the woman's identity was unknown but "visual puns" indicate it was Anne Lovell who lived in East Harling, said experts.
The work will go on display at Norwich Castle Museum.
It was kept at Houghton Hall since 1761 but was moved to the National Gallery in 1992.
Now it is being loaned to the castle to form part of an exhibition of more than 200 pieces created between 2000 BC and 2013 that mark "the cultural impact of birds upon mankind".
"The starling is there as a clue as it rhymes with Harling and that's typical of the kind of visual pun the Tudors rather enjoyed," said Francesca Vanke, keeper of art at the museum.
"Squirrels in the picture relate to the Lovell family crest, so it's this combination of animals, which might not at first seem to be important, that give us clues to who she is."
Experts believe the portrait was commissioned by Francis Lovell, Anne Lovell's husband, after he inherited the estate at East Harling, as a way to indicate his family's rising status in the eyes of King Henry VIII's court.
The exhibition also features the first public showing of Suffolk-born artist Maggi Hambling's recent oil on canvas Heron In The Shallows Of The Thames and an example of early taxidermy featuring the extinct Australian Paradise Parrot.
Visitors can also see live images from the peregrine falcon's nest on Norwich Cathedral as the four chicks prepare to fledge.
The Wonder of Birds runs at Norwich Castle Museum from 24 May to 14 September