Great Yarmouth energy skills training centre set to open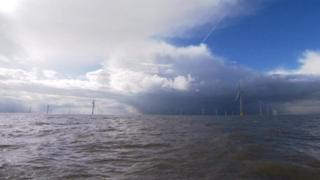 A skills centre to develop and train workers in the energy sector is to open in Norfolk in the autumn.
The Energy Production Innovation Skills Centre (EPISCentre), backed by the East of England Energy Group (EEEGR), will be based at Minerva House, Gorleston.
Celia Anderson, from EEEGR, said it was a step towards having "a significant skills centre" to service "the needs of the energy industry in the area".
The centre aims to bring increased international investment.
"One of the first questions we get asked when people are looking at the potential of moving a company into the area is where are we going to get the people and where are we going to get them trained," Ms Anderson said.
"It means we can bring companies in... and we hope the long term benefit is to ensure more people are trained locally and we want them in local jobs."
The Minerva House project is an interim move while plans for an £11m purpose-built flagship building are finalised.
Seb Duncan, from Great Yarmouth Borough Council, said: "The Great Yarmouth borough is a UK capital for the energy industry.
"So, it makes absolute sense to have a local centre of excellence to enable firms to provide specialist training to staff, rather than having to send them out of the region."