Norfolk council's solar plan for former RAF Coltishall site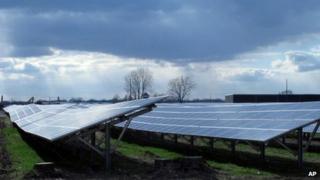 A former RAF station in Norfolk could be transformed into a 300 acre (120 hectare) solar energy park in plans announced by a council.
Norfolk County Council bought the 600 acre (240 hectare) RAF Coltishall site for £4m in January 2013.
The authority's cabinet has agreed a 25-year deal to rent the site to a private solar farm developer.
North Norfolk District Council would have to approve the planning application for it to get the go-ahead.
The council said it has been advised by renewable energy advisors from Deloitte that the solar park would generate up to 49.9 megawatts.
The developer, which has not been named, would "fund the costs of the scheme".
The council declined to reveal its projected rental income from the project, saying it was "commercially sensitive" information.
It added the park could "generate much needed recurring income as rental for the county council at a time when grants from central government are being cut".
Council leader George Nobbs said: "Solar farming does have the advantage of not permanently altering the nature of the landscape.
"This proposal has great potential to deliver both clean energy and provide a healthy return on the council investment and it's an attractive proposition because the risk lies with the developer rather than ourselves."
The council has not yet given a time frame for the delivery of the solar park.