St Benet's Abbey in Norfolk gets mole help for project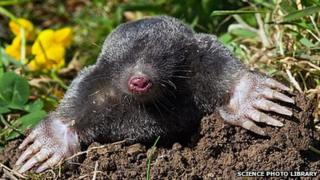 An archaeological study of 11th Century ruins in Norfolk has had a helping hand from an army of volunteer moles.
Human volunteers looking for artefacts at St Benet's Abbey in the Broads have been sifting through molehills around the remains of the building.
The Norfolk Archaeological Trust said moles were important in sending shards of pottery to the surface around the abbey, near Ludham.
The team had been searching for evidence of the abbey's origins.
'Grateful to moles'
Caroline Davidson, project leader for the trust, said: "Because it's a grass site, you can't do [ploughed] field-walking, so you have to rely on the moles digging up stuff.
"It's mostly medieval pottery so far, but what we're really hoping to find is pre-Norman stuff which proves the early date of the site, but unfortunately we haven't found that yet.
"We never actually get to meet and thank our army of mole volunteers, but we're very grateful to them."
The abbey, which is next to the River Bure was believed to have been built in the 1020s.
A two-year conservation project is taking place at the abbey, featuring 300 human volunteers.
A team of eight people spends one day a month examining the new molehills.
The trust said a lead sheet with Scandinavian runes on it had been found before the start of the current project, which gave them hope that further finds could be made.
An exhibition about the current project takes place at the Norfolk Record Office in Norwich until 25 July.