Cuts threat after £30m King's Lynn incinerator bill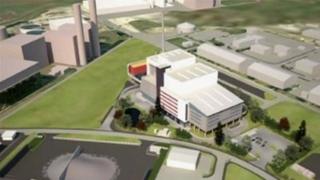 Highways maintenance and a library book fund could face heavy cuts by Norfolk County Council so it can pay a £30m bill arisen from a failed waste scheme.
Councillors chose to abandon the £500m King's Lynn incinerator last month amid rising costs for the project and a failure to secure government backing.
The authority said it could also keep some money from a second homes tax it currently gives to local councils.
The cabinet will discuss the issue next Monday.
A report says the council has a £11.3m funding gap, with £19m of the exit costs to be filled from its reserves.
Much of the debt will be covered by a budget underspend for 2013-14 and a £500,000 government grant, among other sources.
Project delays
But the council said it now had to choose whether to cut £900,000 from the highways budget and a further £140,000 from the libraries book fund, or keep a chunk of a second homes' tax windfall back from local councils, to cover the remaining £1m.
The King's Lynn incinerator was first given planning permission by the county council in 2012, but the plans were called in for scrutiny by the communities secretary after opposition from residents, MPs and local councils.
However, delays in the government's decision, and the withdrawal of a multi-million pound waste grant, forced the council to abandon the plant and pay compensation and other exit costs.
The borough council of King's Lynn and West Norfolk has since said it might buy the site of the proposed incinerator off the county council so it can be used for business start-ups.