James Bond stuntman's autogyro for sale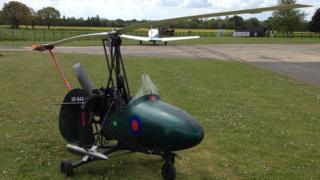 The son of a stunt pilot who flew his self-designed aircraft in a James Bond film has put one of his father's autogyros up for sale.
Wing Cdr Ken Wallis, who lived near Dereham in Norfolk, died last August.
His single-seat autogyro aircraft, called Little Nellie, featured in the Bond film You Only Live Twice in which he doubled as Sean Connery.
His son, Jake Wallis, said the machine, known as Little Nellie's Sister, needed to be "looked after and cherished".
Wing Cdr Wallis gave his son, who lives in America, the aircraft 12 years ago. Mr Wallis said it was the last one in private hands.
He said he was unable to get a pilot's licence because he was blind in one eye due to a genetic problem.
Although his father was also blind in one eye, Mr Wallis said regulations were not as strict when he got his licence.
"She's a hangar queen," he said of the aircraft.
"She needs to go somewhere where she's looked after and cherished."
About 20 of his father's autogyros are held in trust and are going on display at the Shuttleworth Collection, near Biggleswade, Bedfordshire.
"I don't fly - the rest of the aircraft are going to Shuttleworth and I want to find it a good home," he said.
"My father had so much confidence in them. He flew them beautifully.
"I'm sure he'd have liked me to follow in his boots so to speak, but I'm not a pilot."
Mr Wallis said he had "no idea" how much the autogyro might sell for.
Inquiries about the aircraft are being handled by Old Buckenham Airfield in Norfolk.
Autogyros have been compared to rudimentary helicopters, but their unpowered rotors are rotated by airflow passing through them, which provides lift while an engine-powered propeller provides thrust.