Norwich station crash train driver in previous incidents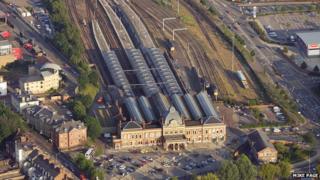 A train driver who caused a crash by losing concentration or falling asleep had been responsible for 14 previous incidents, an investigation has found.
A Greater Anglia train travelling at 8mph crashed into an empty, stationary train at Norwich railway station on 21 July last year.
Eight passengers were injured.
The Rail Accident Investigation Branch said the driver was prone to lapses in concentration, which had not been identified by Greater Anglia.
In the final 20 seconds of the train's approach, he either had a lapse in concentration or "microsleep", the RAIB said.
Eight passengers suffered injuries including bruised ribs and head injuries and were discharged later that day.
Passenger David Tarry told the BBC at the time that the impact caused the lights to go out and part of the ceiling to fall down in the carriage.
'Aggressive passengers'
The RAIB said the driver was tired and his performance could have been affected by prescribed medication.
It found he had been held responsible for 14 previous incidents since becoming a driver in 1989.
Of those, six had happened between 2010 and 2012, including an incident of speeding at London Liverpool Street.
The RAIB said a lack of concentration was a likely underlying factor in the majority of incidents.
Its report stated the station supervisor had to intervene when some of the passengers became "aggressive" towards the driver on the platform after the crash, which happened shortly after midnight.
He had been on a competence development plan for most of the three years before the crash and has since been placed on restricted duties, the RAIB said.
It made recommendations to Greater Anglia over its competence management system, accident investigation procedures, auditing processes and its fatigue management system.
Greater Anglia claimed it had already implemented most of the recommendations.