Norwich Cathedral falcon's first egg hatches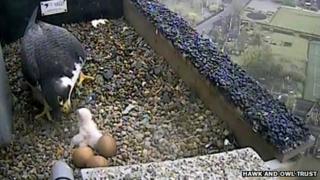 A first egg laid by a peregrine falcon nesting on Norwich Cathedral's spire in 2014 has hatched.
The Hawk and Owl Trust, which has been filming the event with CCTV, said the chick was first spotted at 19:39 GMT on Saturday.
A trust spokesman said: "The male came in and almost pushed the female off the eggs to get a glimpse.
"The female came back at 20:17 GMT and we got another look."
Four chicks hatched in 2013, the second brood in the city since 2011 and among the first in 200 years.
A watch-point at the cathedral, run by the Hawk and Owl Trust, is open until the end of June.