Henry Moore and Robert Sainsbury letters on show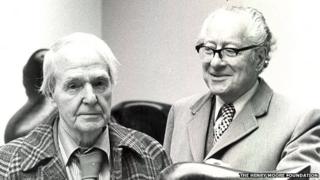 Letters revealing the friendship between the sculptor Henry Moore and his patron Sir Robert Sainsbury are to go on display for the first time.
In one exchange, Moore tells Sir Robert to change razors and is told the advice "truly makes a difference".
The men met in 1933 when Sir Robert bought one of the artist's Mother and Child sculptures.
The correspondence will go on display at the Sainsbury Centre for Visual Arts in Norwich from 26 April.
Henry Moore was an English sculptor and artist, best known for his semi-abstract bronze works.
Sir Robert and Lady Sainsbury amassed a collection of art from all over the world, which now forms the collection at the University of East Anglia in Norwich.
The couple formed a close friendship with the sculptor and his wife Irina.
The sculptor mentioned how much he was looking forward to the opening of the Centre for Visual Arts in one of his holiday postcards from Italy in 1977.
Sir Robert also defended Moore's reputation after his death in 1986.
When Channel 4 produced a television programme critical of the sculptor in 1988, the collector wrote to the Times in protest and sent a copy of his letter to Mrs Moore.
Amy Chang, one of the exhibition team, said the letters "show clearly" how much the couples "respected and liked each other".
"We are delighted to be able to share these never-before-seen snippets of their friendship with the public," she added.