Abellio Greater Anglia announces £20m refurbishment plans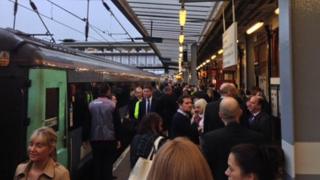 A £20m plan to refurbish trains serving the East of England and increase services between Stansted Airport and Cambridge has been announced.
Abellio Greater Anglia (AGA), which has won the franchise to provide services, pledged the improvements as part of its agreement with the government.
The firm also agreed to complete upgrades to stations at Bishops Stortford, Cambridge and Chelmsford.
The Greater Anglia area covers Cambs, Herts, Norfolk, Suffolk and Essex.
The improvements announced by AGA include:
A major refurbishment of the carriages operating on the Great Eastern mainline (between Norwich, Ipswich, Colchester, Chelmsford and London) with new seat covers, better lighting, upgraded toilets and a re-paint
The introduction of new off peak Cambridge to Stansted Airport services on Mondays to Fridays from July this year
Provision of more than 1,600 extra standard seats on weekdays on the Great Eastern mainline intercity services, by converting seven catering vehicles by October 2016
Installation of more than 400 additional cycle parking spaces at AGA stations
A commitment to continue to work with the Department for Transport and other stakeholders as part of the Norwich in 90 taskforce to develop plans to improve journey times.
In total the programme of upgrades will cost more than £20m over a 27 month period.
Jamie Burles, managing director of Abellio Greater Anglia, said: "Not only will the improvements provide a better service for passengers, they also support economic development, enabling sustainable growth across the region we serve."
Aging infrastructure has led to major disruptions and delays to services on the Greater Anglia mainline, MPs said last year.
Norwich North MP Chloe Smith, who is part of the Norwich in 90 taskforce (which campaigns for faster services between Norwich and London), said: "Alongside long-term improvements... this announcement gives us some of the important things that passengers need, straight away."
Ipswich MP Ben Gummer said: "It is understandable that people are frustrated with how long they have had to wait for these improvements but I want to reiterate that we are reversing sixty years of under-investment."
Chairman of New Anglia Local Enterprise Partnership Mark Pendlington said: "This is a turning point after years of under investment in rail in the East, and encourages us all in our campaign to achieve even greater improvements in the vital rail services that serve all parts of this area."