Ingoldisthorpe sat-nav crash led to pensioner's death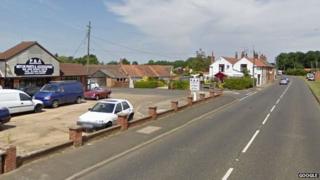 A woman who crashed her car - leading to the death of another driver - after her sat-nav prompted her to turn into a driveway has been ordered to do community service.
The collision in 2012 killed Irene Curran, 77, in Ingoldisthorpe, Norfolk.
Stephanie Greenacre, 21, of Jermyn Road in King's Lynn, was due to stand trial at Norwich Crown Court but admitted causing death by careless driving.
Greenacre has been ordered to carry out 140 hours of community service.
She was also given a 12-month driving ban.
She was driving on Lynn Road in Ingoldisthorpe on 30 December 2012, missed her turning and, prompted by the satellite navigation system in her Ford Ka, turned in to a driveway.
Greenacre turned into Ingoldsby Avenue in front of Mrs Curran's Suzuki Ingis and collided with it.
The Suzuki then veered in to the path of an oncoming van.
The van driver had minor injuries, while Mrs Curran suffered a spinal injury and died at the scene.
Steve Matthews of Norfolk Police's serious collision investigation team, said: "Our evidence showed... Greenacre did not allow sufficient time and space to make her manoeuvre.
"I would urge all drivers to give their full attention to the road and minimise distractions, which can lead to serious or fatal collisions as we have sadly seen here."