King's Lynn incinerator: Independent inquiry ordered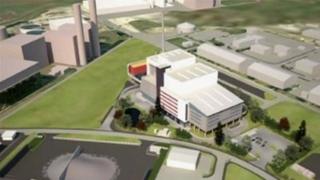 An independent inquiry is to look into the £500m contract for a waste incinerator, which was terminated last week.
Norfolk County Council's plan for The Willows incinerator at King's Lynn was first given permission in 2012.
But it faced widespread opposition from MPs, local councils and residents.
Council leader George Nobbs has announced an inquiry into the contract. Its termination is set to cost the council £30m.
The inquiry will be led by Stephen Revell, a respected former councillor who has widespread experience of scrutinising public bodies.
'Ruffle feathers'
Mr Nobbs said he wanted to know how and why the authority had found itself in such a situation, and said he had questions about the termination of the contract.
Mr Revell, a former Liberal Democrat member of the council, said: "I'm well aware what a divisive issue this has been for Norfolk and I hope I can have a constructive role to play in getting to the bottom of how the decision to proceed was arrived at. If I need to ruffle a few feathers along the way, so be it."
Last week, the council said the decision was due to failure to secure satisfactory planning permission.
Members voted 49 to 29, with one abstention, to recommend that cabinet should terminate the contract at an estimated cost of £30.26m.
That sum comprises compensation to development partner Cory Wheelabrator of £20.3m; contractor public inquiry costs of £1.6m; and exchange rate and interest rate-related costs of £8.36m.
These would be met through a £19m contingency reserve, £3m from the council's 2013-14 under-spend and £8m from general reserves.
Accountants Price Waterhouse Coopers had warned that pulling out later would incur further legal and other costs.