Norwich Cathedral peregrine falcon eggs face intruder threat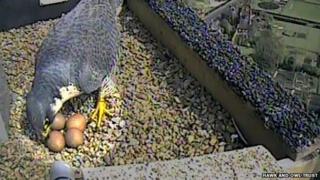 A rogue bird has threatened to destroy the clutch of four peregrine falcon eggs being nurtured on the spire of Norwich Cathedral.
A female peregrine flushed the father from the nest and then indicated it was "toying with the idea of breaking them," said the Hawk and Owl Trust.
It eventually withdrew from the nest when the adult male made "high speed low passes over her head".
The intruder, wearing a ring marked DP, came from a nest site in London.
The clutch of four eggs is the third successful year of laying for Norwich's breeding pair. They are now 12 days into what is expected to be a 34-day incubation period, said experts.
The DP peregrine, ringed in 2012, first showed an interest in the Norwich nest some weeks ago.
Size matters
"Peregrines are not known for being timid but when in the box the male was faced with the reality that 'DP' was a much bigger bird than he, it was clearly a contest that he wasn't going to win," said Lin Murray, from the trust.
DP threatened the eggs on Saturday, before returning on Tuesday, but failed to land in the nest when she was chased off.
Four chicks hatched in 2013, the second brood in the city since 2011 and among the first in 200 years.
A watch-point at the cathedral, run by the Hawk and Owl Trust, is open until the end of June.
The current batch of eggs is expected to hatch towards the end of this month.