Go Go Dragons invasion planned for Norwich by Break charity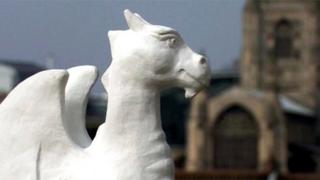 Dragons have been revealed as the mythical creatures at the heart of the next large-scale community art trail for the streets of Norwich.
The Go Go Dragons event, planned for 2015, builds on the success of the Go Go Gorillas, which raised more than £270,000 for charity at auction.
Dragons have been a heraldic symbol closely associated with the city since the Middle Ages.
The trail is being organised by Break, a charity caring for vulnerable people.
Martin Green, fundraising officer at the Norfolk-based charity, said the response to the dragon announcement had been "amazing".
"This trail will be about awareness for Norwich's historical links to the dragon, taking in Norwich's heritage.
"It has captured people's imagination and there is something special about a dragon and what it represents."
Dragons still feature in much of Norwich's historic architecture and have churches dedicated to Saint George in Tombland and Colegate - both housing many dragon symbols.
The famous dragon slayer can also be seen elsewhere in the city, including a 15th century mural of international importance in St Gregory's Church and within a stained glass window in Norwich Cathedral, depicting the saint and his defeated foe.
Following the Go Go Gorillas trail, which featured more than 50 full-sized sculptures including characters like Alanrilla, Batgrill and Bling Kong, research by Break found the trail increased footfall to the city which helped boost the local economy.
"The trails are not just about good art, it's [about] getting to know parts of your city that you have never been to and being part of something special," said Mr Green.
The dragon sculptures, which will stand about 5ft (1.6m) tall, will once again be created by Wild In Art.
Director Sally Ann Wilkinson said: "This event will herald the arrival of the Norwich Dragon - a sculpture specifically designed to engage artists, people of all ages and communities in a summer-long celebration of Norwich and Norfolk's rich cultural offering."
Artists are now encouraged to submit their designs for the glass-fibre dragon canvasses.