Norfolk graffiti clean-up policy criticised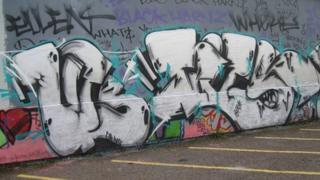 A decision to clean up graffiti in Norfolk only if it is "offensive or racist" has been criticised by an opposition politician.
Norfolk County Council, run by Labour, Lib Dems and UKIP supported by the Greens, wants to save clean-up costs.
The council has announced budget savings of £66m and is seeking cuts and better use of resources.
Conservative leader Bill Borrett said the council was walking away from a problem people see as important.
"We will be asking the county council to look again at their policy and other available options," he said.
Among these options Mr Borrett includes getting more community engagement in assisting with clean-ups.
"It is human nature that graffiti will appear but dealing with it needs a constructive policy," Mr Borrett said.
The county council has said it would remove within 10 days of a report any graffiti its staff considers racist or otherwise offensive.
A county council spokesman said that a common sense approach was adopted to interpreting what is and is not offensive but mistakes are sometimes made.
In one incident in Thetford recently an inspector did see some graffiti on the walls and ceiling of an underpass but decided it was not offensive.
"While on site he spoke to three members of the public who were using the subway and they were unable to identify anything offensive.
"At another inspection, we noticed an offensive image on the ceiling of the underpass and made immediate arrangements to remove the graffiti."
In contrast, Norwich City Council will remove racist or offensive material within 24 hours of a report and all graffiti within 14 days unless it is on private land outside its jurisdiction.
The council is now looking at reports of businesses using graffiti style graphics to advertise on sites near a shopping centre in the city.
There is also a wide range of graffiti found in underpasses around the city and on derelict land.